Just released from Stata Press: A Visual Guide to Stata Graphics, Fourth Edition
Stata Press is pleased to announce the release of A Visual Guide to Stata Graphics, Fourth Edition by Michael N. Mitchell. This book debuted as Kindle's #1 New Release in the category Mathematical & Statistical and continues to appear on Kindle's best-seller list in numerous categories, including Educational Software and Education Statistics.
Mitchell's latest full-color book is an essential introduction and reference for Stata graphics. This new edition retained all the features that made the last three editions so useful and popular—a complete guide to Stata's graph command, exhaustive examples of customized graphs, and visual indexing of features that allows you to just look for a picture that matches what you want to do. The book is also easy to navigate using the color-coded, visual table of contents that runs along the edge of every page and shows readers exactly where they are in the book. You can see the color-coded chapter tabs without opening the book, which provides quick visual access to each chapter.
This guide starts with an introduction to Stata graphs and then moves to in-depth discussions of many types of graphs ranging from scatterplots to regression fit plots to contour plots. Along the way, Mitchell shows you how to customize any aspect of the graph. He carefully demonstrates options and styles that allow you to modify the look of your graph. The fourth edition has been updated with new discussions of color and transparency, Unicode characters, export formats, sizing of graph elements, and schemes.
Whether you want to better understand the Stata graph command, quickly find out how to produce a graphical effect, or learn approaches that can be used to construct custom graphs, this is the book to read.
There are many upcoming releases of Stata Press books. To see the full list of forthcoming books, please visit our forthcoming page. While you are there, sign up for alerts, and be the first to know when a new book is released. Visit Stata Press to see our complete list of books.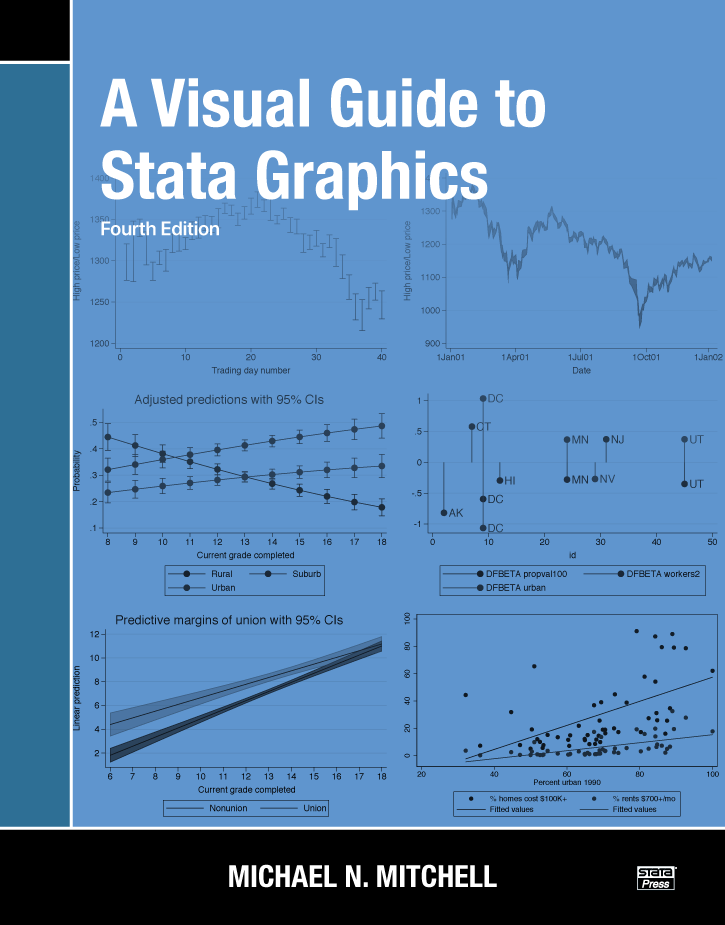 Categories:
Graphics, New Books, Resources, Stata Products
books, forthcoming, graphics, graphs, introduction, michael mitchell, mitchell, release, Stata 17, stata press