Just released from Stata Press: A Gentle Introduction to Stata, Revised Sixth Edition
Stata Press is pleased to announce the release of A Gentle Introduction to Stata, Revised Sixth Edition by Alan C. Acock. If you, or someone you know, are new to Stata, you will want to check out the revised edition of Stata Press's longtime best seller, which is now available and fully updated for Stata 17.
A Gentle Introduction to Stata, Revised Sixth Edition starts from the very beginning with the assumption that the reader may not have prior experience with any statistical software. This assumption of a blank slate is central to the structure and contents of the book. Acock starts with the basics; for example, the part of the book that deals with data management begins with a careful and detailed example of turning survey data on paper into a Stata-ready dataset. When explaining how to go about basic exploratory statistical procedures, Acock includes notes that will help the reader develop good work habits. This mixture of explaining good Stata habits and explaining good statistical habits continues throughout the book.
The revised sixth edition is fully up to date for Stata 17. All command syntax, output, menus, dialog boxes, and instructions for using the point-and-click interface have been updated. Examples now include new Stata features such as the redesigned table command and collect suite for creating and exporting customized tables as well as the option for creating graphs with transparency.
This book is ideal for those just beginning to learn Stata and makes a great companion for an introductory statistics course. The author introduces both the statistical concepts and their implementation in Stata.
There are many upcoming releases of Stata Press books. To see the full list of forthcoming books, please visit our forthcoming page. While you are there, sign up for alerts, and be the first to know when a new book is released. Visit Stata Press to see our complete list of books.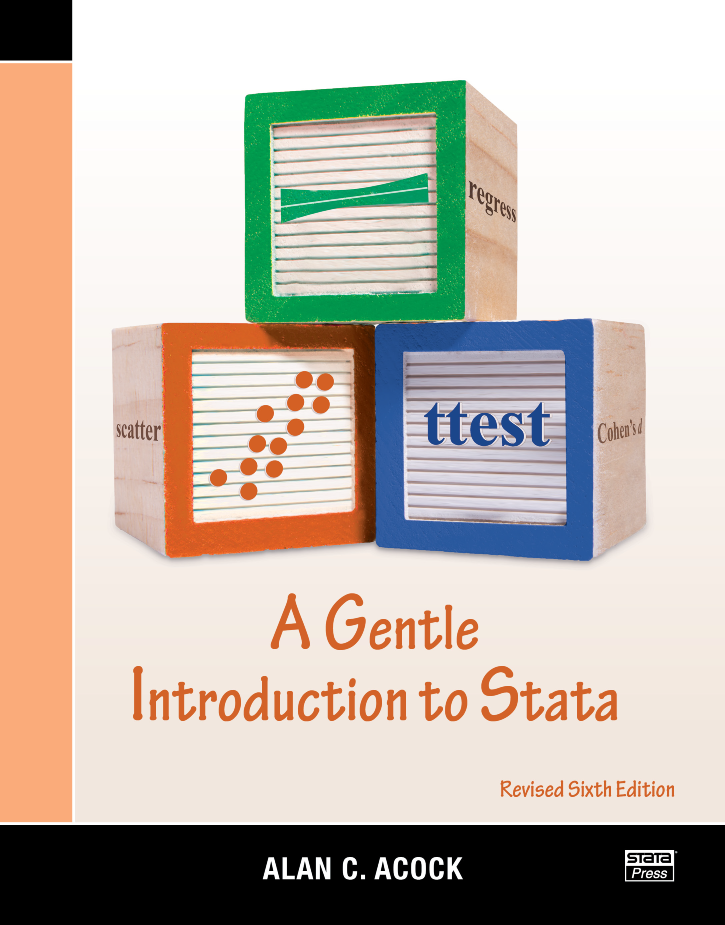 Categories:
New Books, Resources, Stata Products
acock, alan acock, beginner, forthcoming, gentle introduction, release, revised sixth edition, Stata 17, stata press